36 minutes
Automation is the future of cargo handling, but how to map a journey that best fits the terminal's needs and choose a solution that ensures future productivity? Standardisation is the answer.
Instead of reinventing the wheel over and over again for each terminal, our industry should build the future on top of standardised, proven solutions. Standardisation will help speed up automation deployment, radically shorten start-up times, and simplify the maintenance of highly complex automated systems.
Standardisation within the cargo shipping industry can be achieved, like it has been done earlier in other industries. Kalmar has been a leading voice in the discussion about the future direction of terminal automation, and the clear message is that suppliers cannot do this alone – it has to be a joint effort.
In this webinar you will learn:
1. How to map the journey towards automation & semi-automation in ports and terminals  
2. How does standardisation help avoid the common pitfalls when implementing automation in terminal operations?
3. How can automation lead to lowering operational costs & scaling up productivity?
This webinar was recorded 14 October 2021.
Your webinar hosts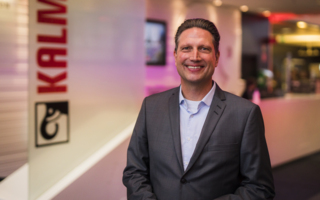 Guenter Schmidmeir
Senior Vice President, Sales & Marketing, Kalmar Automation Solutions

Guenter Schmidmeir leads Sales and Marketing at Kalmar Automation Solutions, including strategic account management to further strengthen and deepen relationships with the global terminal operators (GTOs) and large regional operators. Guenter joined Kalmar's leadership team from Navis in November 2017, where he was leading the Europe, Middle-East and Africa (EMEA) region since 2008 as Vice President and

General Manager, EMEA. He has more than 20 years of experience in the port and terminals industry where automation projects around the world have always played a dominant role. He held positions in London, Antwerp, Dubai, Oakland and is now based inGermany.
Laura-Maria Saarinen
Director Marketing, Kalmar Automation Solutions
Laura-Maria Saarinen is the moderator of this webinar who shares challenging questions with Guenter, which aim to help you when you start planning your automation trip with standardised solutions. Laura-Maria has nearly 15 years of experience in B-to-B marketing and communications, and currently leads marketing strategy and execution for Kalmar Automation Solutions.