Reverse warning system
To increase personnel safety and minimise damage to other objects a Kalmar reverse warning system should be fitted to your equipment.
Read more about the Kalmar reverse warning system


Automatic engine stop
The more you use the engine on your equipment, the greater the wear and tear, which may eventually lead to your engine breaking down. Installing an automatic engine stop system will shut your engine down when it is most at risk, decreasing breakdowns and reducing your repair and fuel bills.
Read more about the Kalmar automatic engine stop


Tyre pressure monitoring system
Small variations in tyre pressure on your machines can be costly and the truth is, the longer you leave it unnoticed, the more these costs will add up.
Read more about the Kalmar tyre pressure system

Drive speed limiter
By installing a drive speed limiter you can make sure that your drivers are always travelling at a safe speed. The drive speed limiter allows you to set a maximum speed that your equipment can be operated at, at any time. Giving you complete peace of mind that it is being driven responsibly at all times.
Read more about the Kalmar drive speed limiter


Central greasing system
By installing a central greasing system you can be certain that your machine components are fully lubricated when they need to be, no matter where they are or how difficult it is to access them.
Read more about the Kalmar central greasing system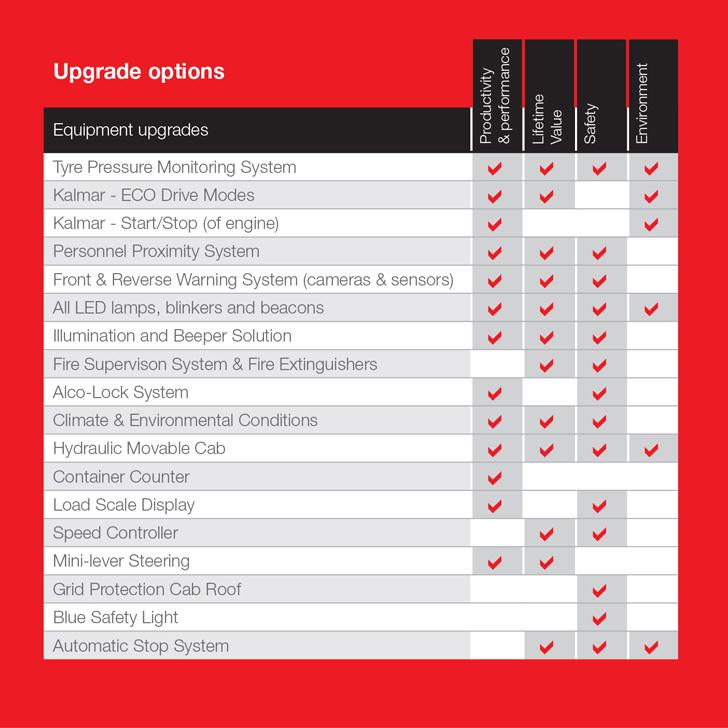 Can't find what you're looking for? Contact your local Kalmar sales team and we´ll find a solution that meets your needs.